OVERVIEW
The MV Indies Trader, currently in the Marshall Islands, offers the most authentic surf exploration experience – it is by far the most travelled surf vessel in the world's history. During the course of the 1980's and into the mid 1990's Martin and the MV Indies Trader were responsible for discovering the vast majority of surf breaks along the Sumatran coastline including many waves in the Mentawai Islands. More recently, between 1998 and 2005 it was featured in the "Quiksilver Crossing" discovering over one hundred more waves on its 160,000 nm journey around the world over a period of nearly 7 years. She is safe, really seaworthy and comfortable
WHAT TYPE OF BOAT IS THE INDIES TRADER?
The Indies Trader is a 75-foot converted diving and survey vessel constructed of steel with an aluminum wheelhouse. It weighs 95 tonnes and has a cruising speed of eight knots. It was originally built in Brisbane, Australia, in 1972 and was rebuilt in Singapore in 1992. In 1999 it was specifically customized for the Quiksilver crossing and has had her most recent refit in early 2010. She is maintained in excellent condition
HOW MANY ON THE BOAT?
Indies Trader is now used mainly as a support vessel for Beran Resort providing transport to / from surf breaks, getting to dive locations, and the odd overnight surf mission. The full complement is 8 guests / 13 people total including crew. The crew consists of the captain and the chef and four crew members. There are also eight berths in four air conditioned cabins on the main deck.
HISTORY
For a history of the MV Indies Trader, and its exploration in Indonesia, as well as circumnavigating the globe, please visit our History section.
SCHEMATIC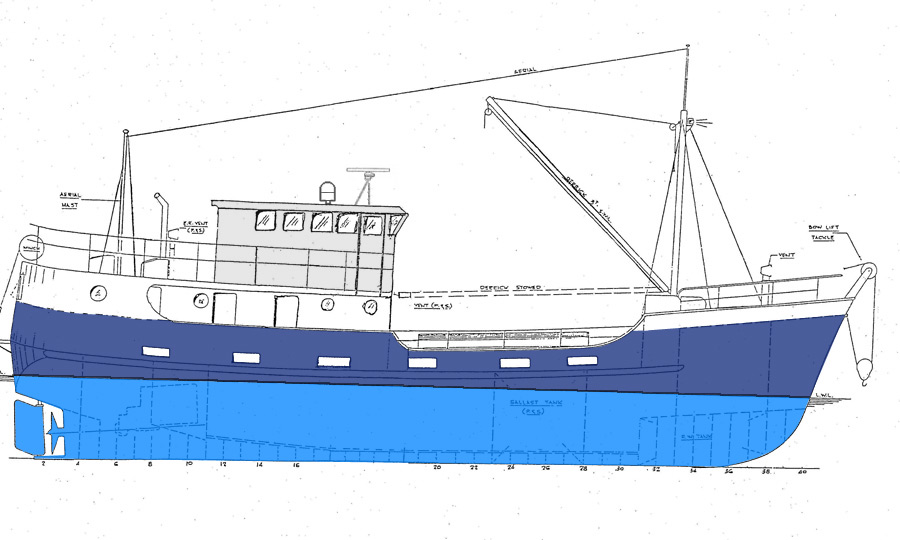 SPECIFICATIONS
Vessel Type
Diving and Survey
Construction
Steel with aluminum wheelhouse
Length Overall
75 feet (22.86m)
Year Built
1972 KB Welding, Brisbane, to Commonwealth of Australia
Year Rebuilt
1992 Pandan shipyard, Singapore
Weight
95 tons
Cruising Speed
8 knots
Range
5000 nautical miles
Auxiliary Boats
17 foot Runabout with 60hp Outboard – Yamaha Waverunner and Rescue Sled
Safety Certificates
Vessel holds Honduras Safety Certificate, International Loadlines Certificate, Ship Safety Radio Certificate, and is surveyed annually.
Safety Equipment
2 x 20 man life rafts, 1 rescue boat, 18 life jackets, handflares, Parachute flares, Red Signal Smoke, dual frequency EPIRB distress beacon, 8 life rings with strobes
Accommodation
4 x two berth air conditioned (total 8 passengers)
Crew
Captain, engineer plus four crew
Entertainment
30 inch flat screen TV, DVD, Stereo, BOSE Sound System
Communication
Marine Radio (SSB Main/SSB Stab=ndby/VHF/4xhandheld), Inmarsat telephone and fax – Internet capable
---
Archival Video from the Quiksilver Crossing