The Indies Trader 3 has always been the best boat in Sumatra. It is available for exclusive charter in the Mentawai Islands or anywhere else in Indonesia. She is the process of being extensively upgraded to super yacht standards with the accommodation already completed. If you want to surf our favorite waves in the Mentawais, we have a time tested plan to avoid the crowds and guarantee uncrowded surf. If you want to go even further off the beaten path, please inquire, as we have a number of custom trips.
This operation was the first in Sumatra with the original Indies Trader. The first surf charter was in 1983 with Dave Barnett. Within a few years, Captain Daly took out the Indies Trader with the Nat Young to Sumatra.  With all the experience we've gained, and having the best boat in the fleet, we can give you without a doubt the best possible experience. You can imagine the number of people that we have taken on the trips over their lives, over the last 35 years, let us do the same for you.
Benefits
We don't carry a lot of people on board on purpose, what's the point of coming all the way to Indonesia to surf uncrowded waves with no one out, and bringing your own crowd. Martin's favorite saying is "If he sees a set wave and can't have it, its too crowded". The ultimate number of surfers in the water is 6. If you have 8 guys on board, you usually have a few on the boat resting, and the rest of the group in the water.
Your Group
Possible Group Sleeping Arrangements
-5 surfers who each wish to have your own room
-8 surfers who each wish to have their own bed
-10 total, including 2 couples in the double state rooms
Your room night cost includes your own private room, 3 gourmet meals a day, after surf snacks, alcoholic and non alcoholic beverages and the use of all the ships recreational and entertainment facilities.
The standard trip duration is 12 days / 13 nights, two days longer than most of our competitors. We stay out for these two extra days to ensure that our guests have the opportunity to surf at least one solid swell during their stay, but in all likelihood we usually encounter two, sometimes three significant swell events during our scheduled charter dates. If you're going to travel halfway across the world those two extra days are worth their weight in gold.
Schematic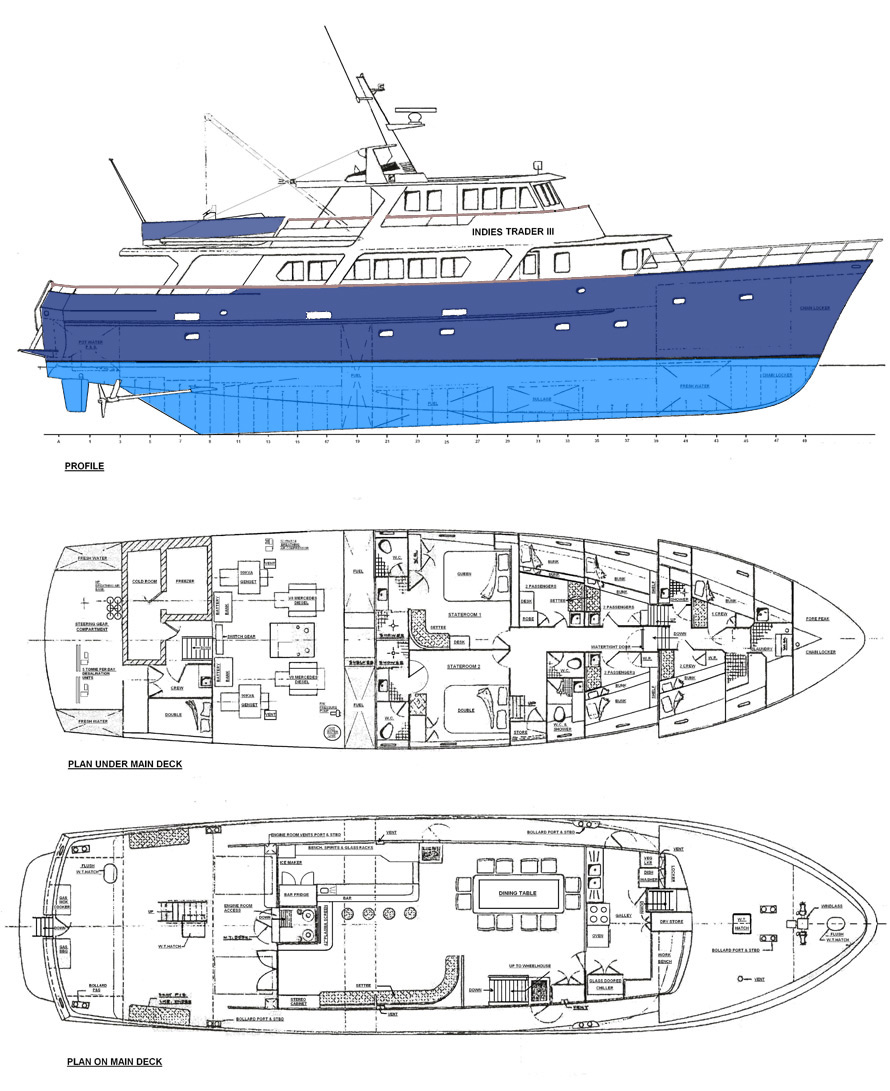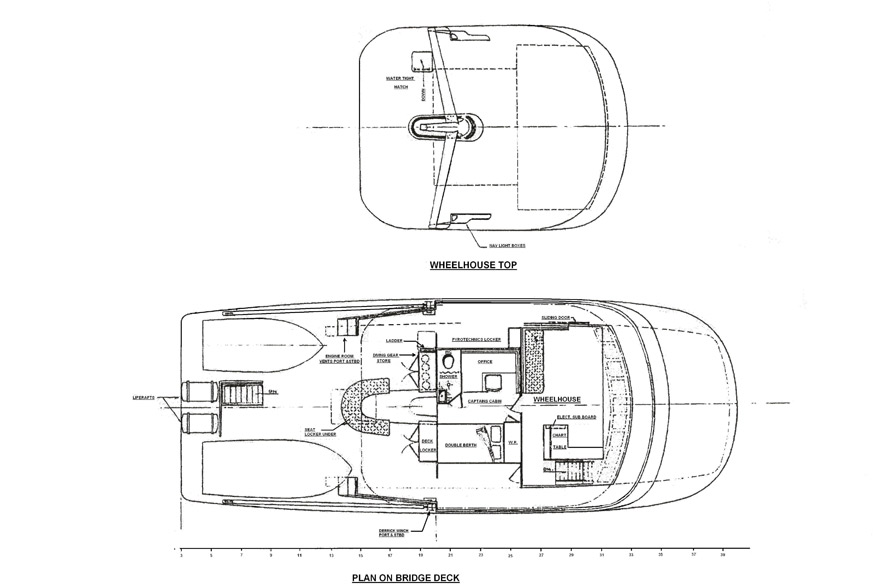 Specifications